This quarter has been a significant one for the social media giant. Facebook revealed a series of exciting new tools and features at its annual F8 developers conference encompassing design, reporting, analytics and more. In this blog, we take a look at some of the main developments announced by Facebook this quarter, and how these are meant to impact businesses.
Promote your content and grow your reach with Facebook. Plan and schedule your content in advance with this customisable, easy-to-use Social Media Content Calendar.
Design
New Camera Effects
Facebook's recent release of stories and camera features has placed them in the spotlight for being too similar to Snapchat but it seems like these features have been the foundation for Facebook's new Camera Effects platform. Facebook users can now design frames for their profiles and camera with Frames Studio, or use AR studio to create masks, scripted effects and animated frames. Although Facebook is expected to introduce paid features for businesses, branding and advertising are only pre-approved at this stage.
Analytics and Reporting
Facebook Analytics Gets Smarter
Facebook is taking its analytics platform to a new level with the introduction of machine and artificial intelligence. These new features will allow for new ways to monitor engagement and purchasing behaviours, such as variations in engagement across people in different cities. Having access to these insights in real time will allow businesses to reduce the time spent searching for trends and developing a plan of action.
Streamlined Ad Reporting
Facebook has partnered with Microsoft Office to create Facebook Ads Manager for Excel (FAME), a new add-in solution that will allow users to run a fast, single report to download data from multiple ad accounts.
Other Features
Messenger Chat Bots
With more than 1 billion users and nearly 2 billion messages sent between people and businesses every month, Messenger has become an ideal platform for businesses to interact with consumers. Here are some of the new Messenger features coming into play this quarter:
New chat bot features will allow businesses to connect with multiple people simultaneously.
A bot will appear in people's conversations in Messenger when it can be of assistance, for example, to book a restaurant reservation or play a song.
Users can now order food through delivery.com and pay using Messenger's virtual assistant, M.
A New Virtual Reality App
Facebook Spaces is a new VR app (currently in beta mode) that will allow users to interact with their friends in a virtual environment as if they were in the same room. With Facebook Spaces users can:
View Facebook content with their friends, including 360 videos and photos that can transport them to new places.
Draw in the air with a virtual marker to create anything they can think of.
Bring more people into their VR space using Messenger calls.
Share photos of their VR experience with their friends on Facebook.
Check In with Places
Facebook users can now share their whereabouts with their friends, tag friends at their location and see others who have also checked in, using Places. This feature will provide free access to data like names, addresses, images and consumer ratings on more than 140 million places around the world, including both local businesses and public spaces. Businesses will be able to create location-aware experiences using apps, to help people make informed decisions about where to go and what to do.
Improvements to Facebook Shop and Product Tagging
The shop section lets you sell your products to people right from your Page. When people see your products tagged in your posts, they can click those tags to shop your products. You can tag up to 30 products and links from your shop section in your Page posts. This adds an additional layer of relevance to your posted content by allowing you to reference products without explaining them in post copy – offering you a unique way to tell your story! We understand that product tagging will be available on other advertising formats soon.
In summary, Facebook seems to be moving quite fast towards its aim of being not just an online social networking site but also a global discovery tool through information access, to make the world more connected. The developments announced this quarter demonstrate the huge amount of collaboration that exists behind this massive engine and the opportunities that this bring to businesses to connect with real people on any device.
If you are new to advertising on Facebook, developing a strategy that guarantees results can be overwhelming at first. We can help you understand your audiences better and generate highly engaging content which attracts and drives conversions across each stage of your customer journey. Drop us a line at hello@calibrate.co.nz, or in the meantime, if you need a place to start, take a look at this Social Media Content Calendar.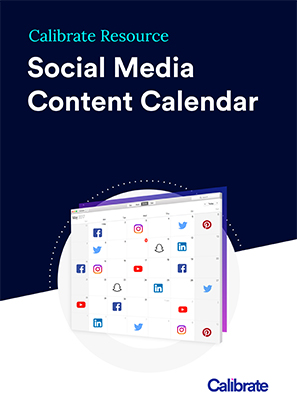 Featured Resource
Social Media Content Calendar