This month in our 'Meet the Marketer' series we meet Calibrate client Andrew Davis, Brand and Digital Manager for New Zealand Couriers. As part of the head office marketing team, Andrew works with just about everything marketing/communications related. We learn more about his role and what he likes to get up to outside of work below.
1. Please tell us a little about your position as the Brand and Digital Manager at New Zealand Couriers. What are your key responsibilities?
I'm part of the head office marketing team for New Zealand Couriers, responsible for everything (and anything) marketing/communications related across the country. We have 17 branches across the country to look after, so we stay busy. At any given time my role is a mix of day-to-day/adhoc requests, sales and marketing campaigns, big picture projects (such as website usability) and much more. We're a small team with a lot to do so my main responsibility is to get s*&! done.
2. In your time with New Zealand Couriers, how, and in what ways, has New Zealand Couriers marketing strategy evolved to keep up with advancing technology?
As technology has advanced, it's also become increasingly fragmented so we've ended up with multiple systems that customers interact with. We've had to develop a holistic strategy which aims to unify the customer experience and deliver brand consistent messaging across all the different platforms and touchpoints through which customers can interact with us.
3. What do you find to be the biggest marketing challenges in your industry?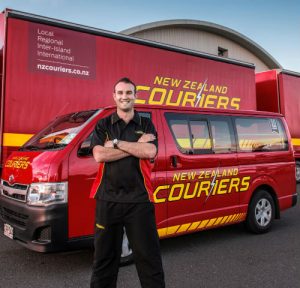 User expectations rapidly increasing due to the advancement in technologies. Operating in the B2B space we find that people come to work and expect to have the same digital experiences as in their personal lives through B2C orientated technology platforms. So we're no longer just competing with rival companies in New Zealand, the bar is set by leading international companies in entirely different industries. The challenge is then how can we deliver a similar experience with the constraints that we have (i.e. legacy technology, resource, budget etc).
4. Are there any companies locally or abroad who you think are leading the way with their approach to digital marketing?
Locally, I keep an eye on what the banks are doing with their website and apps as I find they're either leading the way, or not too far behind. Internationally I keep an eye on Fedex as leaders in our industry, and some of the USA telco websites for new ideas. For more holistic digital marketing I try to keep up with the latest innovations from Netflix and Amazon. And of course, making sure I stay informed of any changes and developments to the Facebook and Google ecosystems.
5. Outside of work what do you like to do for fun?
My main hobby is Brazilian Jiu-Jitsu, which is a grappling sport closely related to Judo. I find it's a great counter balance to office work – it gets your body moving, you're learning something entirely different, plus you forget all about the stresses of the day when a someone is trying to choke you. I also got into Scuba diving last year – a particular highlight was diving around the Perhentian Islands (which is off the coast of Malaysia) last year, absolutely stunning dive sites with such diverse sea life. Highly recommended!
We love working closely with our clients to really get under the skin of their business and fully understand their objectives, their pain points and constraints. Get in touch today and let us help you achieve your digital goals.