Most often, the best way to get an answer is to ask the question. What is the pulse of the marketing industry? What tactics and strategies are working - which aren't? Where is the market going today and what paid channels will pay dividends tomorrow?
In this blog post, we review a report – the result of a collaboration between market research leaders, Publicity.ai and Ascend2 – to find the answers to some of these questions. Our review revealed 3 things content marketers need most right now to keep up, stay ahead and succeed.
Brand Awareness
While content serves in many roles in every campaign from SEO and customer engagement to lead generation (which is the most important metric related to success), the focus today is brand awareness. This appears to be in direct correlation with the onset of the millennials and the effectiveness of organic marketing techniques.
Ranking higher than revenue and lead generation, this report echoes those facts as brand awareness ranked as the most important strategic objective.
Generating revenue and leads isn't any less important, marketing leaders just understand that without having an image and a message, a company won't have a brand. A company without a successful brand, will fail.
With social media now being one of the major platforms in the marketing industry, organic content has never been more effective or more important. Getting your message to the right people at the right place at the right time is part of the secret behind social media marketing. Despite the success and influence of social media though, Search Engines still remain the highway of content distribution.
Content Distribution Planning
Unsurprisingly, content distribution planning ranked high among the most vital needs of content marketers. In the most layman of terms the report stated that regardless of how good the content and message is, it is pointless if it never reaches the target audience. Makes sense.
Here is where Search Engines shine brightest and as the report said:
"SEO success is measured by the percentage of search traffic captured, so your content marketing is nowhere near its full potential if it is not being organically discovered by more prospects than your competitors."
What paid content distribution channels your distribution plan includes and how that content is used will directly influence the success of your campaign. Finding the right social media platforms, using effective SEO techniques and the right content distribution strategy isn't optional.
This might explain the third consideration on the report's list of what content marketers need most right now.
Reach Out and Rise Above
SEO expertise, social media influencers, Search Engine Marketing (SEM) experience, customer engagement techniques and this is only a fraction of the skills involved in a professional marketing campaign. Of course you know this but why are so many businesses still trying to do everything on their own? Based on the third finding, perhaps that is no longer the case as this statistic from the report shows:
86% of content-marketing decision makers use external resources exclusively or in combination with outside specialists.
When common sense meets business, the results are always good. This is the essence of such a meeting, you do what you're good at and obtain experts to do what you're not an expert at (and based on the numbers it appears to have caught on). We weren't told who the other 14 percent were but it likely won't matter twelve months from now.
The Practical Application
There it is, stay focused on brand awareness, don't forget to utilise Search Engine Marketing when planning for content distribution and use professional help. Much like the statistics in this or any report, however, understanding the numbers or in this case these marketing aspects isn't helpful unless they can be used and viewed in practical ways.
Applying Brand Awareness Content
When it came to nurturing and lead development, it was commonly said that "content is king." While that still applies to lead nurturing and development it now also applies to brand awareness. What this means for marketing leaders is the need to develop an online persona and brand. That is in addition to generating leads and using that persona and brand to help nurture those leads.
Does that sound like a lot work, research, effort and time – among other resources and expenditures? That's because it is and that is why it is necessary to reach out to experts and specialists in these areas where you may be less familiar. Do you need professional writers, expert brand developers or lead generation specialists?
According to the report, however, getting the content right is only half the battle.
Applying SEM in Content Distribution
Social media and Search Engine Marketing are clearly the leading avenues for content distribution along paid channels. These are equally diverse and equally powerful communication channels with enough impact to determine the success or failure of your business.
SEM was the most important factor in content distribution but only marginally over social media platforms based on the report findings. We wouldn't be surprised to see this flip-flop over the next few years but in any event these two arenas are the keys to success in content distribution.
Understanding how to drive traffic and SEO applications are part of the SEM landscape while using more customer engagement tactics and personalised content are organic to social media. Having expertise in both of these essential paid content channels isn't likely and just another example of why it is smart to reach out.
One More Consideration for Content Marketers
Although this report didn't cite this as one of those top three findings for content marketers, it did emphasise and highlight the importance of quality metrics.
How are you tracking your lead generation success? What campaigns are effectively promoting inbound activity? What information do you need and what do you need to know to make your business soar?
Guess what? If you don't have a metrics system to evaluate your business and marketing campaign, there's expert help for that too!
In fact, if you don't know where to start with any of this or you would like to evaluate your current marketing plan, contact us. We are marketing experts and we are ready to help.
Putting it All Together – The Big Picture
Think about this, a story that was talking about the attention span of a viewing audience (your customers) reported that a "Microsoft study revealed that we now have an attention span of eight seconds–making our attention span shorter than that of a goldfish (at nine seconds)."
Oh yes, and the competition out there is fierce too. What does this have to do with anything? Everything.
We need to stay sharp, use every tool and use any advantage we have in order to succeed. The opportunity is there but the road isn't easy or else everyone would be content marketers. Create great content and get it to the right audience using the right channels. Measure and evaluate your marketing strategy and campaign to continue making it better – and get help where you need it.
That next customer, and the one after that – and after that…eight seconds. Eight seconds to meet a need, to influence or persuade, to offer a solution – to begin making them a customer. This report suggested three key points to focus on as a result of an in-depth survey to make that happen.
That's the big picture and that's what content marketers need to be doing right now.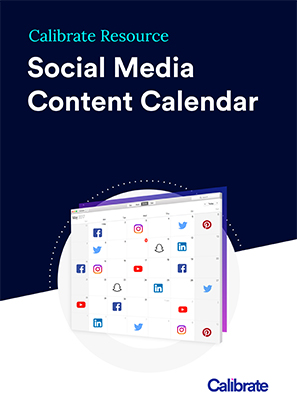 Featured Resource
Social Media Content Calendar