Email marketing is still one of the most effective marketing strategies for businesses when done right. Despite its huge potential, too many companies are letting opportunities fall to the wayside with lackluster email marketing campaigns.
It's an understandable problem. Between writing email copy, perfecting subject lines, setting send schedules, and managing email lists, there's a lot to get right. But it doesn't have to be too complicated, either. Here are some simple secrets to creating successful email marketing campaigns.
1. Use Data to Make Decisions
49% of businesses don't use email marketing data when they're planning their campaigns, but this is a huge mistake. Data will tell you what's working and what's not. Before deciding on the subject line or content type to use for your next email campaign, you should analyse the performance of previous campaigns, and consider at least open and click rates.
Pay special attention to the subject, the copy, and the links in the body. You should start to get a picture of what works for your target audience, and you can replicate that formula in future email sends.
2. Test, Test, and Test Some More
The real secret to email marketing success isn't a secret at all. It's testing. You should split test your campaigns regularly to understand what generates results.
Segment your audience into different groups and send each a different version of the email (e.g. a different subject line, a different link in the copy, a different call to action, a short email vs. a long one, etc.). Then determine which version generates better results and refine your campaigns accordingly.
When designing your split test, take into account the different variables that influence the accuracy of your results. For example, the larger your test sample, the more accurate your results will be. Do not hand pick recipients or use lists from different sources, as this will likely skew your results. You want to gather empirical data to determine which version of your split test performed better.
3. Team Up With A Reliable ESP
Unreliable Email Service Providers (ESP) jeopardise their clients' email marketing by sending emails from Internet Protocol (IP) addresses that have low reputation scores. Email providers, like Gmail, Yahoo!, and Hotmail, are more likely to flag messages from low-scoring IP addresses and put them directly in the spam folder.
As spam filters methods become more advance these email providers are actually looking at their users previous interactions with your campaigns to determine whether your next email will make it to the inbox or not.
That's why it's so important to partner with reliable ESPs. These companies only send from IP addresses with high scores. And, to ensure high deliverability rates, they take precautions to ensure the emails are solicited and come from credible senders – not spammers.
4. Use Effective Calls to Action
Effective calls to action (CTAs) that are succinct, value-focused, and customer-centric will drive more conversions from email marketing.
Think about what your customer wants and needs, rather than what you want or need the customer to do. "Improve my social media marketing results" is a more effective CTA than "Download our latest eBook on social media marketing." People don't innately want to subscribe or download anything. What they want are answers, information, and help.
5. Offer Your Readers Value
If you want people to open and read your email, then send them something they want. It might be a discount, free tips, a free consultation, or something completely different.
Buyer personas and good content marketing strategies are key to offering value. Persona development helps you understand what your audience needs and what their problems are, so you can be certain you're providing something they'll find valuable.
6. Don't Forget About Design
The saying "looks don't matter" does not apply to email marketing. The design of your email is absolutely a factor in how well it performs. Generally speaking, there are some design principles you should follow in your marketing communications. Visuals perform well. Short, clear copy entices people to act. A good use of white space provides balance. You shouldn't add too much text to images, as it's not easy to read on mobile.
Generally speaking, there are some key design principles you should follow in your marketing communications.
Visuals perform well but make sure you are using images that are relevant to the message you are trying to convey.
Short, clear copy entices people to act.
A good use of white space provides balance.
Optimise your email design for different devices. For example, do not send image-only emails.
According to the latest email marketing industry census by Adestra & eConsultancy, 90% of companies report that they have some form of strategy for optimising email marketing for different devices, up from 86% in 2016, but the proportion of marketers that describe their approach as 'quite' or 'very' advanced has only moved up one percentage point from 2016, to just 22%.
7. Segment Your Audience
Finally, segment your email messages to ensure your prospects receive messages that are relevant to them. You understand that your target audience is composed of different buyers who all have different wants and needs, so why would you send one blanket email message to them all?
It's like delivering the same sales pitch to every client who walks in the door, despite the fact that they have unique perspectives, backgrounds, and requirements. Segmentation gives you the opportunity to target buyers on a more individual level and drive significantly better results.
Are you using email marketing to its full potential, or settling for uninspiring results? If you're interested in taking your email strategy to the next level, contact us. We can help you build a world-class email program from the ground up.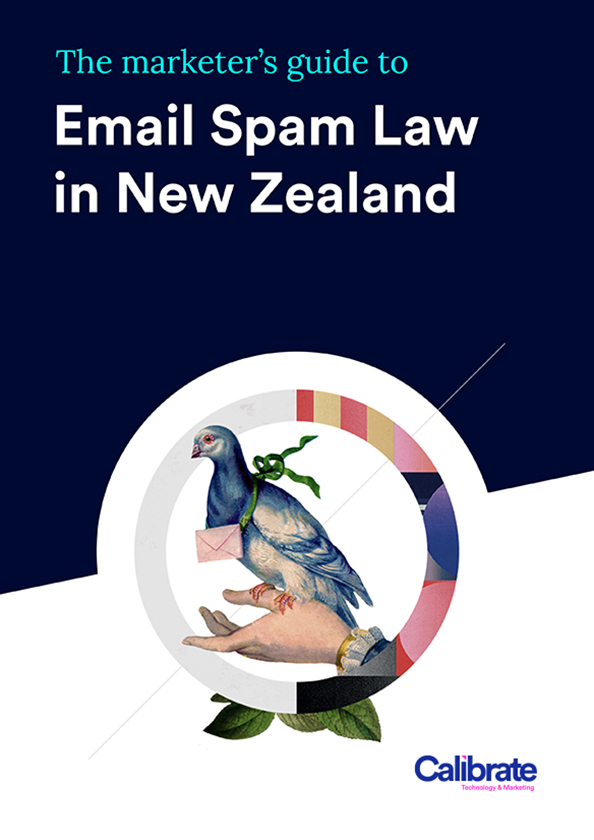 Featured Resource
Ensure your marketing and communications teams are compliant with spam law.
We've created a comprehensive 16 page guide including a Compliance Checklist so you can learn the key elements and tell if your company is protected.