Are you missing a trick in your welcome emails? Take a look at this checklist to ensure you are covering all the fundamentals steps to delivering great welcome emails.
Your welcome email is usually your first foot in the door to a relationship that could either last for years or be over in a blink. Impressing and delivering on their expectation is super critical right when the relationship is brand new. The fact is, we've worked with many clients to calculate the lifetime value of a permission email address, and in every case an emailable contact is significantly more valuable than a non-contactable human being. Sometimes gob-smackingly more. So you want to do your best to make sure your very first email is entertaining, informative, shareable, engaging, and rewarding.
Download our new, New Zealand focused 16-page ebook The Marketer's Guide to Great Welcome Emails.
This is your chance to delight your brand new subscribers in less than 60 seconds. Think about the last chance you had to make an impression on someone.
Did you dress for success?
Did you use warm body language?
Did you bring flowers or chocolates? (Or wine even?)
Hopefully the answer to these questions is "yes", but even if it isn't, it's probably clear why you might like to start applying these principles to your welcome emails. These emails influence how warmly your potential customers feel about your brand, and set the expectation of what's to come – training them to look forward to your next email, and the following one. This adds up to making it one of the most important pieces of communication you will ever deliver.
A welcome email's main objective is to confirm the subscription process, and to drive action. Whether your goal is to build brand awareness or to encourage a first purchase, you can achieve these objectives with a thoughtfully designed and implemented welcome email or series of emails. Our ebook goes into a lot more detail but for now, here's the 9 things you need to include:
Deliver your welcome email immediately after sign up
You want your new subscribers' curiosity for your brand to continue after being impressed by your website and choosing to subscribe. Leaving them waiting for a welcome email could lead them to lose interest. This is especially important if you've offered a discount code as people often want to use these immediately after signing up.
Personalise
As previously mentioned, use the information you gathered from your subscription form to give each new subscriber a unique welcome message. Address them by name and show them content or products that appeal to their unique interests. Use the welcome series as an opportunity to collect additional information from your subscribers. This will help you personalise future messages, making content more relevant and enticing for your audience.
Educate
You always begin a relationship by introducing yourself and your welcome email is no different. Showcase your brand personality and values, as well as the products or services your brand covers.
Offer something
This could be the unique discount code you promised them during sign up, or a further offer to keep up their enthusiasm for your brand going. While we encourage including a special offer or incentive, especially for ecommerce customers, the main focus of a welcome series should be on educating your subscribers and making their experience with the email program as positive and meaningful as possible.
Include a call to action
Establish your two-way relationship by encouraging your new subscriber to participate. Tell them to watch a video or click to view a selection of products you think they will like. Keeping it to one-click actions provide the best user experience and increases the chances your subscribers will follow through.
Make them feel welcome
As obvious as this sounds, thank your recipients for subscribing. Assure them that they made a good decision by choosing to sign up – let them know about the exclusive deals or information they will be receiving that is reserved for subscribers only.
Design is important
People appreciate effort, and sending them the standard MailChimp 'subscription confirmed' email doesn't make them feel like you care. A good looking and well laid out template will mean that your subscribers continue to feel the excitement for your brand that made them want to subscribe.
Set expectations
Let your subscribers know when you will be sending them emails. If you are going to be sending something every Friday or a newsletter every month, tell them. This establishes your relationship as one of trust and consistency, and gives your new subscribers an idea of what they can expect.
Use an effective welcome series
In many cases sending a 'series' of emails to welcome visitors will do a better job than a single welcome email, to help you establish a relationship. Send a number of emails (usually three to five) a week after each other explaining different parts of your business. Start by educating your subscriber about your brand and teaching them how to be your customer, which might include explaining how to navigate different sections of your website. Gradually introduce products and prices towards the end of the series. Hold off on sending additional promotional messages while your subscribers are going through the welcome series. Bombarding new subscribers with too many messages right after sign up is a common reason they disengage or mark your messages as spam.
In summary, your welcome email should be the masterpiece of your email communications. Make sure you deliver it promptly and make the most of the opportunity it offers you (being the most read email you will ever send) by utilising it to educate and involve your new subscribers.
Welcome your new subscribers warmly and help them to understand how to get the best from you. For more tips on a how to offer a great signup experience and how to build a successful welcome email series, you are welcome to download our new, New Zealand focused 16-page ebook The Marketer's Guide to Great Welcome Emails.
Right now – we are here and even if we do say so ourselves, we're excellent at this stuff. So if you'd like to have your Welcome email(s) reviewed by the expert team at Calibrate we'd love to help. Send it to hello@calibrate.co.nz  with 'Welcome email review' in the subject line.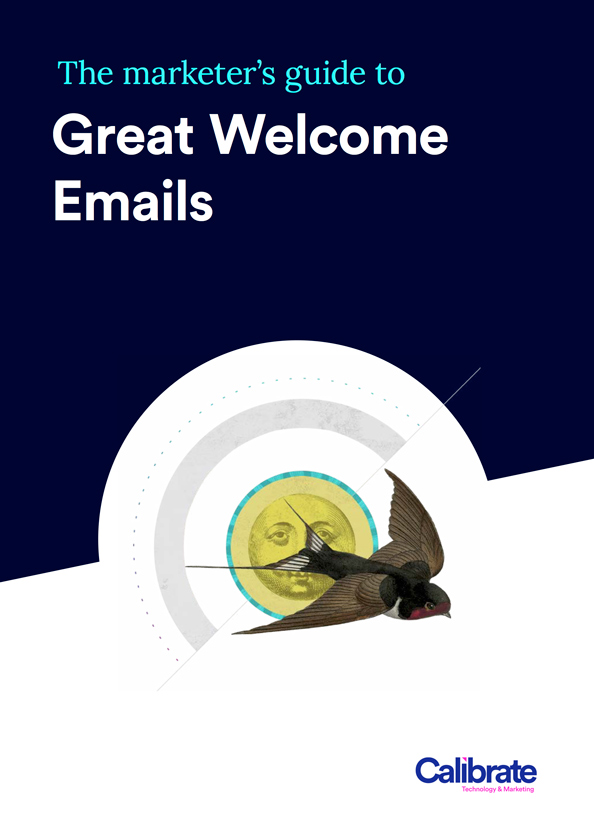 Featured Resource
The Marketer's Guide to Great Welcome Emails
Your Welcome email or series is your first impression. It greatly influences how potential customers feel about your brand, making it one of the most important pieces of communication you will ever deliver.

We evaluated 23 welcome campaigns by local and international businesses to provide you with a list of practical tips and a checklist for developing or improving your welcome email and subscription process.