Facebook lead ads are a great way to grow your lists in a way which is easy and effective for both you and the user.
Facebook lead ads allow users to sign up for newsletters, contests, coupons, registrations, and other content without having to leave the Facebook network. Much like any other Facebook ad, it will show on your newsfeed with a call to action.
The ad below for Texas Chicken New Zealand is an example of a lead ad asking people to "Join the Crunchy Club" newsletters.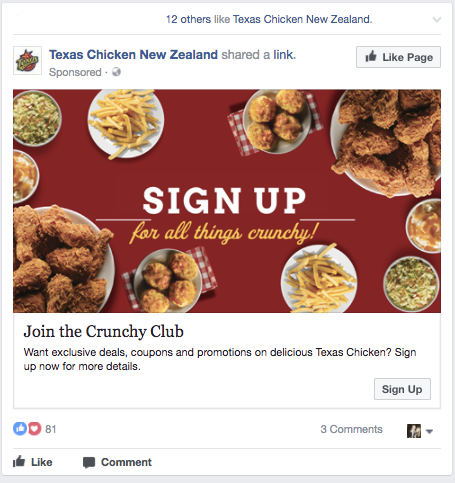 Lead ads are a great way to grow your lists in a way which is easy and effective for both you and the user. They are mobile friendly, user-friendly, and a valuable tool for businesses trying to reach a larger audience.
When a user sees your ad they simply click the call to action, fill out the form and hit submit without being directed to a separate landing page. It takes less time to fill out a lead form ad because Facebook automatically populates contact information from the user profile. This gives your business the chance to ask the user further questions that will allow you to segment users into individual preferences and categorise them further in your CRM database.
If you have integrated Facebook with your CRM software, the information from the form automatically integrates to your CRM software. Check which CRM platforms Facebook integrates with here.
So how do you create effective lead ads?
There are a number of things to consider when creating your lead ad.
1. Your ad creative
Make it clear that the person viewing your ad knows they must submit their contact details to receive whatever it is you're offering. Schick does this well in the lead ad below. They clearly state that "to apply you must provide your info below."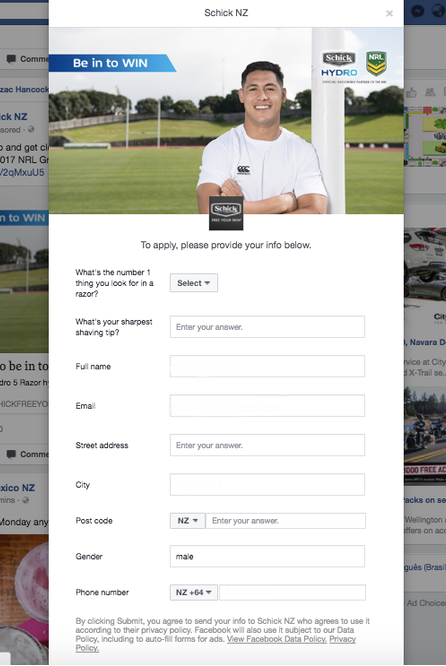 It's also helpful to include incentives in your lead ads. By offering an incentive it is more likely for users to want to give you their details. Make sure you highlight the offer because you want to emphasise how giving up personal details will be of benefit to the user.
2. Your lead ad form
When it comes to creating your lead ad form, only ask for the information you really need. If you're asking too many questions it makes it easier for the person filling out the form to abandon it before finishing it.
You also want to minimise any extra effort the person has to make on their behalf. Make sure you use multi-choice questions and avoid open-ended questions. Avoiding open-ended questions means whoever is filling out your form doesn't have to type their answers. You want to make the process of filling out the form as easy as possible. After all, the reason Facebook introduced lead ads was to help overcome people's reluctance when it comes to filling out forms.
In the example below, Texas Chicken New Zealand provides a drop-down menu for the person filling out the form to select their favourite Texas Chicken product. Texas Chicken are qualifying their leads by asking them this question. They can then use this information to segment their communications with their audience later on eg. sending offers in an email. Because Facebook automatically populates profile information, this form would take less than a minute to fill out and submit.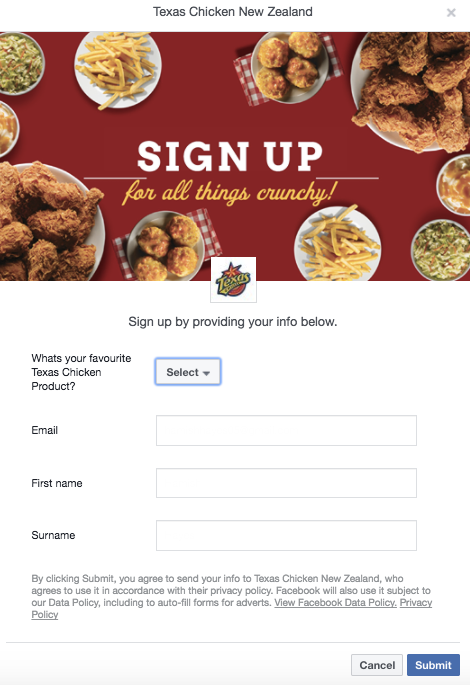 3. Add a welcome screen
Another feature worth adding to your lead ad is a welcome screen. This gives you the opportunity to help people understand why they should give you their contact information and how giving their information away will be of value to them.
If your ad is offering people something that requires some form of follow up communication, use your welcome screen to let people know how and when you will get in touch. Make sure you follow up when you say you will.
DeLaval's welcome screen is a perfect example. It outlines what they're offering the user if they give them their details and it tells them how their rotary planning guide can be of value.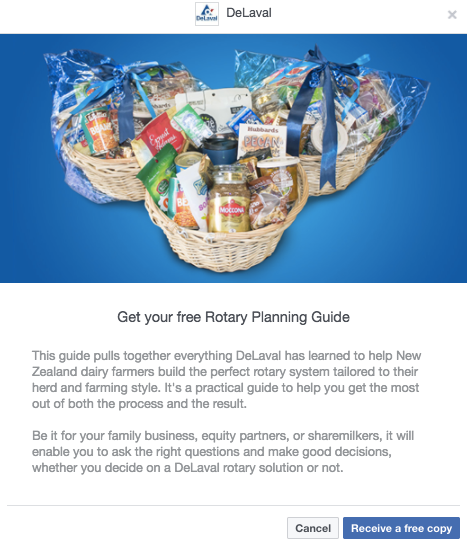 4. Make sure you test your lead ad against regular ads
It's important to test your lead ads against regular ads to give you insight into which ad works better for your intended audience and the product or service you're advertising.
For example, to test your lead ads you can create two separate campaigns; one with a website conversion goal and the other using the lead generation goal. Make sure that you're selecting two look alike audiences so you avoid having people see two versions of the same ad.
Are lead ads the right option for your business?
The return on investment you get from your lead ad depends on a number of things including how well you execute lead ad best practices. One of the major benefits of a Facebook lead ad is that it takes out the middle man. No time and resources need to be spent on creating a landing page and form. This makes the process smoother and can be a much cheaper option.
Facebook lead ads vs other Facebook ads
Deciding what type of ad to run on Facebook depends on what your goal or objective is. If your goal is to connect users to your website and educate learn them about your businesses products then a link ad is appropriate; whereas, when you want to target people who express interest in your business online then dynamic ads might be a better option.
Facebook lead ads are perfect for finding potential customers and turning them into leads. Use lead ads when you're offering something of value such as an ebook in return for contact information from people interested in your business.
Facebook lead ads vs landing pages
There are pros and cons to both lead ads and landing pages. Landing pages have endless design options and allow you to personalise your page to suit the offer you're advertising. Facebook lead ads have pre-filled forms meaning users have no real reason not to submit their form.
The main difference between Facebook lead ads and landing pages is the time it takes to fill out the form. When someone clicks through to a Facebook lead ad their personal information is automatically populated from their Facebook profile filling out form fields such as name and email and phone number. This means people spend little to no time filling out the form and have a higher chance of submitting the form instead of abandoning it.
Another feature of a Facebook lead ad is when you click on the call to action you're not directed to a separate landing page. An ad with a landing page will divert you away from the original page and ask you to manually fill out a form. Landing pages can also have slow loading times. By the time the user reaches the landing page they might have got distracted or changed their mind.
When it comes to choosing to use a lead ad or a landing page it depends entirely on your audience and the product or service you are advertising. It can also depend on where your potential leads will be seeing your ad. Will they be at a computer or on their phone when they view your ad?
According to Adespresso, Facebook lead ads are more effective than landing pages on mobile whereas landing pages are more effective on a desktop. Read about their Landing Pages vs Lead Ads: The $2,000 Facebook Experiment here.
It also pays to take into account the seriousness of the product you're advertising. A lead ad where you only require a name and an email requires little commitment and works well for newsletter sign-ups, but when you're asking for peoples details to sign up to something that requires more of a commitment, a more extensive form might be a better option; therefore, a landing page is better in this case.
So what can you take away from this article? Different ad platforms and ad types are going to work differently depending on the type of your business and the products and services you're marketing. It is also dependant on your marketing goals and what you hope to achieve from your ad.
While Facebook lead ads are an effective and easy way to gather information from potential leads, remember they will use your budget in exchange for leads. landing pages with a sign-up form on your website are often free so when deciding to use Facebook lead ads it pays to view them as an addition to your marketing strategy and not as a replacement to other ad methods.
Need help with choosing the right platform and ad type for your business? Get in touch with one of our social media experts.
Shoot us an email at hello@calibrate.co.nz or call us on 09 600 1478.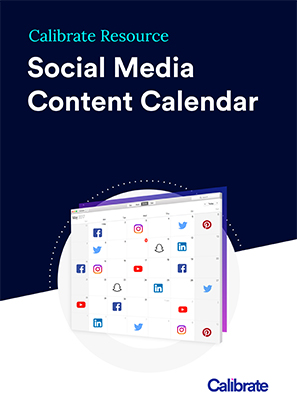 Featured Resource
Social Media Content Calendar